How To Develop a Strong Content Marketing Strategy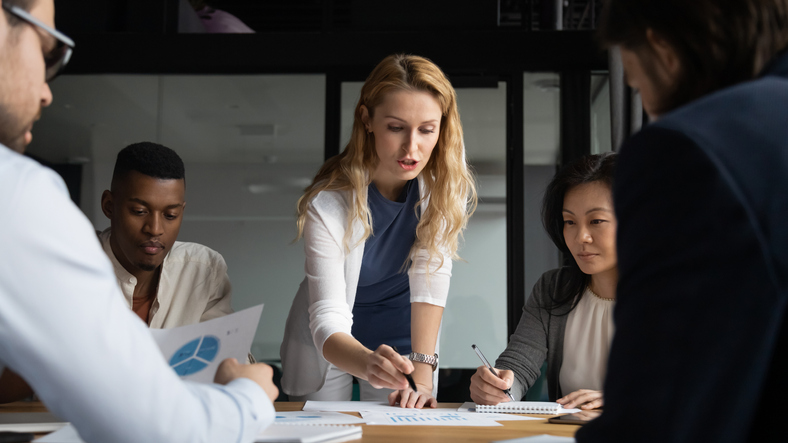 Quick Navigation: 
If one of your business goals is to strengthen your marketing efforts, the perfect place to focus your time and resources is on your content marketing strategy. Consider the necessary steps to take to develop an effective strategy and the forms of content you can use to hook your audience and pique their interest.
What Is Content Marketing?
Content marketing is a promotional strategy organizations use to inform their audience about certain topics and subject matter within their industry. Content is an essential piece of the digital marketing puzzle because it helps you build trust with customers through informative content pieces. Your content marketing efforts should feature copy that's catered directly toward your audience and provides solutions or answers they may be searching for.
What Are the Steps Required To Develop a Content Marketing Strategy?
Creating a strong content marketing strategy involves setting goals, conducting research, and scheduling your posts at dates and times that you're confident your audience will see. Follow these steps to build a strong content marketing strategy that is sure to attract and educate consumers.
1. Establish Your Content Goals
Before you can begin plotting your strategy, decide what goals you're working toward and what you want your strategy to accomplish. This helps you more easily determine which type of content to publish, the topic of your pieces, and when to publish them. From there, establish the marketing and sales goals you'd like to work toward. Make sure your goals are measurable and contain a specific number to work toward. Knowing your goals helps you build a strategy that details how your content will help you accomplish them.
Examples of possible content goals are:
Increase your social media followers by 25% in three months.
Earn 50 new email subscribers in one month.
Gain a 20% increase in traffic on your website.
2. Conduct an Audit on All Your Current Content
Now that you have your audience and content goals established, go through your current pieces to see if they fit your audience's preferences and help you meet your new goals. You can do this by conducting a content audit. Build a spreadsheet with tabs featuring your content categories, main topics, and target keywords to include in your pieces. If you realize some of your content pieces don't fit in any of your categories, consider rewriting or updating these pieces to fit your new content strategy.
3. Choose the Best Content Types and Channels for Your Audience
Looking through your web analytics and seeing where your audience is engaging with your posts helps you better understand where you already have a strong online presence. For instance, if you see more visitors flocking to your blog, direct a majority of your content creation efforts toward blog pieces.
Review your social media and Google Analytics to find out which channels your audience members are visiting and finding your content on. You can use this information to plan which channels to post more of your content on.
4. Plan Posts With a Content Calendar
Hold yourself accountable for creating content and posting it on time by building a content calendar that lists when you'll research, outline, draft, edit, and publish your content pieces. Set deadlines to complete each step of the content creation process, and make sure you stick to this content calendar. When starting out, try to aim for publishing several pieces a month. Make sure to include which channel you'll post on, and schedule your posts to publish ahead of time.
Image via Flickr by photosteve101
5. Create Valuable Content
Once the planning process is finished, it's time to craft your content. Write content that's valuable and educational for your readers. They should walk away from your content piece having learned something new or received a solution to their problem.
If one of your goals is to build your conversion rates, include a call to action at the bottom of your content that drives readers to learn more about your products or services or leads them to a contact form. Try to drive your audience to take action after reading your pieces.
What Are the Different Types of Content That Can Be Used in a Strategy?
The best content type depends on various factors, like the complexity of the information you're writing about and what your audience prefers to read. Common content types to consider using include:
Blogs — This popular content type helps attract your target audience and potential customers who are looking for solutions to their industry problems. Blogs help boost the organic traffic to your website and improve your search engine optimization results so your website appears higher on search engines.
White papers — When you have a lot of data-driven information to share, consider putting it into a white paper format. This is a long-form content piece that educates your readers on certain subjects with data and stats to back it up.
Videos — Some people prefer to consume content through videos. These are often quick videos providing information or tutorials that educate your viewers on certain subject matter.
Infographics — When you have facts or data you'd like to share in a fun and engaging way, use an infographic. These are documents with images that contain a combination of charts, graphs, and other visuals to provide a quick and simple overview of certain topics.
Case studies — These pieces allow you to share your customers' experiences with your service or product. They describe the problem your customer was facing and how your product helped them overcome it and meet any other personal or professional goals.
eBooks — This is a long-form content piece that provides readers with valuable information on a certain subject matter. It goes in-depth on specific topics to offer detailed instructions or information to help readers better understand complex topics. Think of it as a longer and more detailed blog post.
As you review the results your content pieces bring in, think about which topics your customers clicked on the most and which content type they commonly engaged in. Use these results to help you create content that's informative, relevant, and valuable to your audience.