Press Release Distribution: What You Need to Know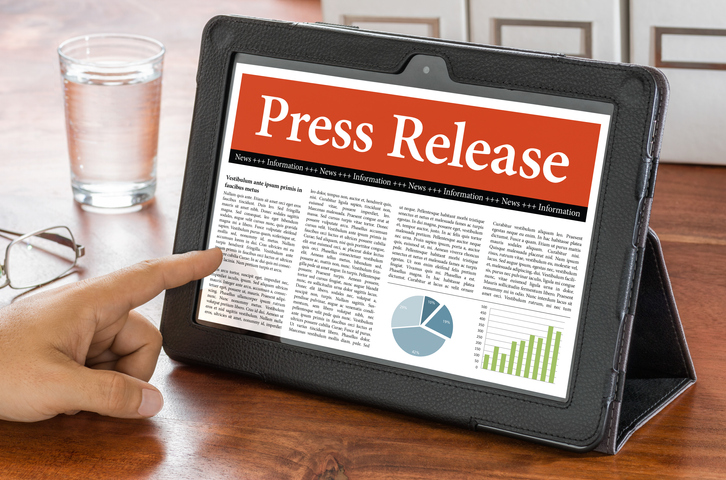 Quick Navigation: 
Press releases are a simple, cost-effective way to tell others about your organization's successes. To make sure your press release reaches as many people as possible, you need to know how to craft and distribute compelling statements that news outlets are guaranteed to pick up.
Why Would a Business Choose to Distribute a Press Release?
A press release is a statement distributed by an organization to various news outlets. Its purpose is to gain coverage on a national or local level through outlets like popular bogs, trade publications, and industry journals. Reasons to distribute press releases are to:
Share important company news or updates: If your company just signed with an impressive client, released a new product, or hired a senior-level executive, a press release is an effective way to share the great news.  
Boost your SEO results: A well-written press release receives tons of engagement, views, and interactions. If it receives enough, it can increase your search engine optimization results, causing your article to rank higher on search engines and drive more visitors to your site.   
Create a strong content portfolio: Content is one of the key elements of a great marketing strategy. You can pull your press release's featured facts and data and repurpose this information into new pieces, like blogs, white papers, eBooks, infographics, or social media posts.
Image via Unsplash by glenncarstenspeters
What Are Some Best Practices to Follow When Issuing a Press Release?
Follow these best practices to ensure you issue and release your statement properly:
Learn How to Craft an Impressive Press Release
Press releases are typically written from a journalistic approach and must be a newsworthy way to tell your brand's story. Consider collaborating with a content creator with experience writing for a news outlet audience. If your budget doesn't allow you to hire someone else to write it, be sure to include these elements when crafting your own statement:
Start with an introduction containing a clear objective.
Detail who's involved, what the topic is about, when the story takes place, where the story's located, and why this topic is important.
Include sources to build credibility for certain facts or statements.
Add quotes from the parties involved in your announcement.
Edit Your Press Release Carefully
Many editors at press release distribution services are picky when it comes to following proper grammar and spelling. When they read your statement, they're on the lookout for a correct, newsworthy tone and language that follows the AP stylebook guidelines. If your document isn't edited to their standards, you'll have a slim chance of getting it picked up. Have others take a look at your release before distributing it to make sure it's clear, relevant, and properly formatted.
Become More Credible Through Cross-Promotion
Cross-promotion involves teaming up with another company to market each other's products or to collaborate on a project together. You can announce your collaboration or partnership through a joint press release. This allows you to promote both of your businesses while also saving on distribution efforts.
The other company you work alongside will split costs and get your press release distributed to more outlets. You'll also reach a wider audience, since you'll be marketing the press release to your own customers and prospects while they also do the same with theirs.
What Is the Distribution Process for a Press Release?
Distribution takes time and consistent collaboration with different media sources. Here's the process for distributing a press release:
Craft your pitch — You'll first need to craft and send a compelling pitch of your release to news outlets. Your pitch should be bullet points of your statement, what you'd like to cover in it, and what their audience has to gain from your story.
Send the pitch to your media connections — Once your pitch is written, send it to your current media connections, if you have any. Find new media connections by researching local journalists online and finding news sources that write about your industry. After sending to local outlets, find trade publications on a national level and send your pitches to them as well.
Distribute your press release — Craft your press release and find the best distribution service to send it out to. Research various websites to find one that distributes the most to outlets in your area or industry.
Send out your email list — When your press release gets picked up, share this media coverage with your current subscribers by sending them email marketing updates regarding the story and include the press release in the message. Share the good news on your website and social media outlets as well.
What Are Some Popular PR Distribution Services?
Here are 10 popular press release distribution services to consider sending your press release through:
PR Log — This free service distributes your release to a wide variety of news sites. It has HTML links included in the release's body and approves all press releases you submit.
24-7 Press Release Newswire — Starting at $19 per release, this service has a press release builder to guide you through the press release creation process. It also contains press monitoring, which notifies you when certain outlets pick up your story.
SBWire — You'll receive a personalized service with SBWire, as they provide an account manager to work with you individually to offer support and guidance throughout your press release distribution process. The service starts at $49, as it closely monitors your release and shares relevant engagement analytics.
EIN Presswire — With this service, you'll receive a detailed distribution report letting you know where your release was sent and if it's been reviewed and accepted. It starts at $49.95 and has a hyper-targeting feature to reach outlets relevant to your product and industry.
PR Underground — This service starts at $49.99 and offers social sharing, which allows you to easily post your release on social media and email outlets. It also monitors your PR campaign results by providing detailed analytics about your release's clicks, likes, and other interactions.
Newswire jet — With prices starting at $59, this service distributes releases to over 350 different media outlets. It also features a website that's easy for press release beginners to use. Their team also works with you to improve the quality and formatting of your release.
PR Web — Priced at $99 per release, this service has an unlimited word count allowance and grants you wide exposure across several outlets of your choice. You can also target your distribution efforts to your specific audience and market.
GlobeNewswire — Beginning at $100 per press release, this service is great for those searching for international exposure, as it distributes to outlets all over the world. You'll find a wide variety of distribution circuits and news outlets to release your story within your specific industry.
Newswire — This company has an abundance of experience and a solid reputation. With pricing starting at $149 for each release, you'll receive advanced visibility of your announcements. Their customer support staff is great at walking you through the press release creation and distribution process.
Linking News — The prices for this service start at $159. It has a large distribution list, so you know your story is reaching many outlets. They also guarantee your releases will be placed on major media outlets. There are multiple plans for you to choose from, based on your size and distribution needs.
When building and distributing your press release, consider using a template to ensure you're following proper guidelines and formatting. A correctly written release will reach a wider audience, promote your product, and establish your business as a credible industry leader.