What Is Digital Marketing? A Quick Guide for Business Managers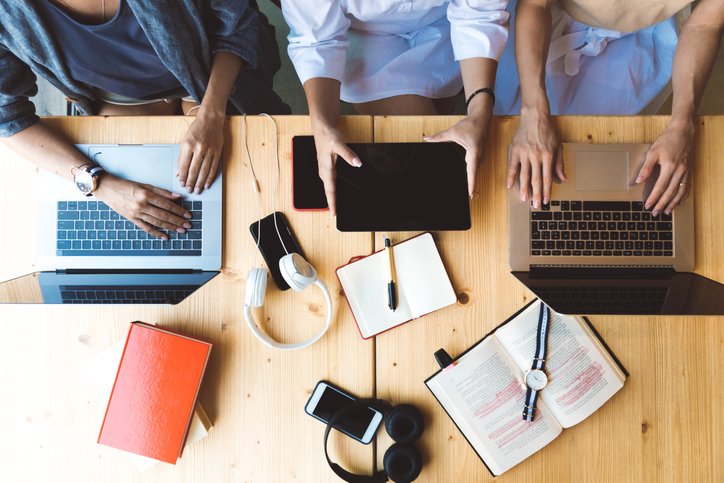 Quick Navigation
---
Most businesses nowadays have an online presence, but few are truly using it to its full potential. If you have a website, manage social media pages, or receive online reviews from your clients and customers, then a digital marketing strategy is crucial to reach your target audience, increase sales, and grow your brand awareness. Your digital marketing strategy can make the biggest difference in the success of your business.
Image via Unsplash by austindistel
What Is Digital Marketing?
Digital marketing is using electronic media to connect with a target audience and build brand awareness, often encouraging them (directly or indirectly) to purchase your product or service. Digital marketing can take place on social media, through emails, on your website, within mobile and web applications, through search engines, and so much more. It can involve both free and paid channels, too.
Since most interactions happen online, digital marketing is a crucial part of any successful marketing strategy. Even if your company is still using traditional marketing methods like phone calls, billboards, and print advertisements to appeal to its target audience, a primarily digital marketing strategy is essential to reach business goals.
What Does Digital Marketing Entail?
There are so many marketing tools at your disposal and different digital assets you can employ as part of your marketing strategy. There are also different strategies and ways of connecting with your target audience. Let's explore all of these aspects.
Digital Marketing Channels
Just some of the digital marketing channels you can use include:
Social media – You can use any social media network to connect with your audience, but stick with ones that make sense for your brand. For example, if your company offers guidance on applying for jobs, you may want to use LinkedIn as your primary platform.
Online images – Digital images can include infographics, photos of your company's headquarters, and pictures of your product or someone using your service, just to name a few.
Blogs – A blog provides your audience with the information they need in a format that's easy to consume. With these pieces on your website, you can establish yourself as a thought leader in your field, enabling visitors to your site to feel confident in your ability to provide much-needed information. Blog content is also another place where you can include the keywords your target audience is using in search engine queries to draw them to your website and knowledge base.
Emails – Emails are a valuable place to connect with your target audience. Within emails, include links to landing pages, offers, and more to drive your audience where they will most likely convert.
Landing pages – A landing page is a page on your website or as a standalone site that's used exclusively for your marketing campaign. You can use your landing page URL in advertisements, in emails, within blog posts, and on social media. Your landing page is where you can capture important leads.
Video content – Video is a major part of digital marketing because a lot of online platforms prioritize this content when showing all content types to its users. Video content can include a YouTube series, demonstration videos, and advertisements that are placed within another person or company's video.
Your website – Your website is a major digital marketing asset. It's where you give site visitors a sense of who you are as an organization by introducing your team, establishing a brand tone and voice, and sharing company news and important updates. You can also track visitors to your website and retarget advertisements to them on other digital platforms.
Digital Marketing Strategies
If you want to start using digital marketing, you should know all the major strategies so you can decide what makes the most sense for your business. Part of building an effective marketing strategy is understanding what methods and platforms will work best for your business so you can spend the time, effort, and money where it will matter the most.
Here are just some digital marketing strategies:
Search Engine Optimization (SEO) – SEO involves strategically optimizing your website and other digital assets to appear higher in search engine results for a particular query.
Pay-Per-Click (PPC) Advertising – PPC takes place on search engines and social networks, and it's a campaign you can create to make sure that when consumers make a specific search, your company appears in the list of results.
Email Marketing – Building up an email list is already an important tool all on its own, but it's even more effective when you can use it to organize a customer list and deliver pieces of content to certain groups based on their likes and their interactions with your brand.
Social Media Marketing – Almost four billion people worldwide use social media, so building a digital marketing strategy that includes social media is probably a good idea. You don't even have to invest a lot of money in paid advertisements because social media is an ideal place to form genuine connections with your audience and establish the trust you need to make sales.
Content Marketing – Content is a part of every single thing you do online as a business, including all the videos you produce, the blogs you write, the emails you send, and the advertisements you target. The average person consumes more than eight hours of content per day on average. Ask yourself, what kind of content do you need to produce to compete with all the other content that your target audience is consuming?
Why Is Digital Marketing Important?
A well-thought-out marketing strategy employs the best digital assets for your business based on data and analytics that are gathered to understand the customer, their life cycle, and path to conversion. Without it, you may be missing out on valuable opportunities to connect and convert customers who will become loyal to your brand. Data is key to ensure you're reaching the right people, using your digital marketing budget wisely, and realizing an impressive return on investment.
When you gather data and work with a Consultdex expert to understand how your customer engages with content and your brand online, you'll be one step closer to using digital marketing to your advantage and seeing real results because of it.