How To Respond to Negative Reviews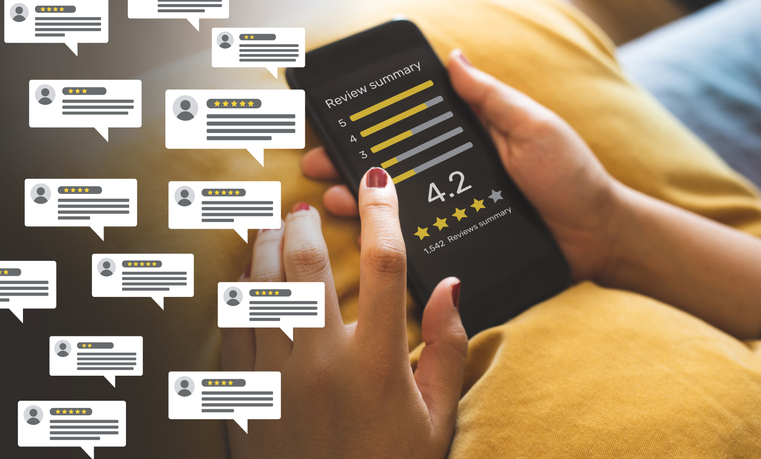 Quick Navigation: 
---
Nowadays, consumers regularly use the internet to shop for new products and read reviews for those products before making their purchasing decision. While consumers are less likely to try out a business if it has many negative reviews, some are more likely to consider it if the company provides professional responses to these negative reviews. Learn how to respond to negative reviews from customers.
What Effects Do Reviews Have on Businesses?
According to the 2018 ReviewTracker Online Reviews Survey, 94% of consumers said they avoid a business if it has many negative reviews. Based on the survey, 50% of people said that these negative reviews make them question the business's overall quality, while 73% of surveyors said their trust in a company increases if they have positive reviews listed online.
The most common review sites consumers use to share their feedback on a company or product include:
Better Business Bureau
Yelp
Google
Facebook
Tripadvisor
Foursquare
Yellow Pages
Fundamental Steps to Responding to Reviews
Hope isn't lost for companies that receive negative reviews, as 45% of consumers say that they'll still visit or purchase from a company if they respond to negative reviews. You can either craft these reviews on your own or have a marketing consultant help you write them. Follow these steps to help you craft effective responses to reviewers:
1. Address the Reviewer Personally
Personalize your response by addressing reviewers by the name listed on their profile. This shows you care about their response and view them as a person, rather than just another customer who buys your product. After addressing them by their name, thank them for their feedback and for taking the time to write to you. This shows you value their input and that you'll use this feedback to improve.
2. Provide a well-written response
Remain positive and mature when providing your response to the reviewer. This demonstrates your dedication to customer service and increases the chances of the customer respecting you and your business more. Make sure your reply contains well-written content and is sincere, direct, and brief.
3. Clarify Information with Questions
Some customers may leave reviews that might be unclear or difficult for you to follow. If this is the case, ask questions for clarification. Asking enough questions to help you fully understand the problem helps you more easily reach a solution or provide a more informed response.
4. Ask Them to Speak With You Offline
Continue adding a personal touch by inviting the reviewer to discuss any issues, comments, or suggestions with you further in person or over the phone. This allows you or your team to talk and negotiate with the customer personally so that they feel heard. It also helps you come to a resolution that satisfies the customer.
How To Respond to Negative Reviews
Image via Flickr by Rawpixel Ltd
Follow these steps to craft a great response to negative reviews:
1. Assess the Feedback with Your Team
Before responding to the reviewer, talk it over with your team first. Figure out why the mistake was made and how you'll work to resolve it. You can use this internal feedback to help you craft a mature and professional response.
2. Write Your Response
Construct a public response to their review and remain transparent about any mistakes you may have made that caused them to be upset with your service or product. It's inevitable that your company and team are bound to make mistakes; the important part is how you react to these mistakes and implement ways to fix them. Demonstrate this in your response.
3. Explain Why the Problem Occurred
If there's a known cause for this inconvenience, professionally address this. Explain what happened on your end that made this problem take place. Look at the situation from the customer's side to better understand why they're upset with your company or product. Take responsibility for the situation before explaining what you'll do to resolve it.
4. Offer a Way to Make Up for the Inconvenience
Now that you've acknowledged and apologized for the problem, offer the customer a way to make things right. Use this time to communicate any recent changes or improvements you've made to fix the issue or any that you're planning to implement after reading their feedback. If you're able to, offer to compensate the reviewer, either with a refund or discount on their next purchase.
5. Request an Update to Their Review
Once you've worked with the customer to find a solution to their problem and you're confident they're satisfied with your service and product, ask them to update their review. It can state how well you helped them with their problem and resolved their issue. Customers reading the review will see this and be more impressed with your willingness to fix the problem, which helps build trust in your company.
How To Respond to Positive Reviews
Follow these steps to craft a response to positive reviews:
1. Provide a Quick Response
Express your appreciation for the customer's review by sending a quick response communicating your appreciation for their feedback. If you provide a fast enough response, you may even be able to have a live conversation to ask for more details about the review, like which features they enjoyed most, improvements they recommend, and any other thoughts or questions.
2. Show Your Appreciation for Their Review
When a customer shows you gratitude for providing them with a great product or service, return the favor. Express appreciation for the kind review by thanking them for taking the time to write. This also shows that you pay attention to all reviews, not just negative ones.
3. Offer Them Additional Value
In addition to providing plenty of appreciation and gratitude to customers for their response, offer them additional value as a customer by giving a discount or special offering for leaving a review. You could also send new product samples and ask these customers to be beta testers for them.
4. Ask Them to Spread the Positivity
If the reviewer feels passionate about your product, thank them for the review and ask them to recommend your product to others, like their friends or family. Online reviews are important, but word-of-mouth reviews can be even more powerful.
5. Provide a Friendly Signoff
Keep your entire response positive from start to finish. Personalize your message to ensure the tone stays positive, appreciative, and enthusiastic by signing your own name at the end. You can even include your title at the company if desired.
After reading each negative review, discuss the issue with your team and establish what you'll do differently to ensure it doesn't occur again. This helps you create a more positive user experience and brings in more positive reviews.