The 17 Best Marketing Strategies for 2020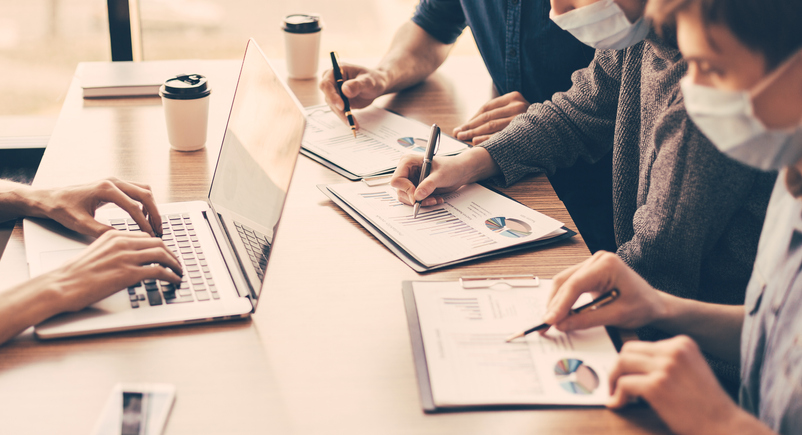 Quick Navigation
Not every marketing strategy is an effective choice for every business, but it's worth understanding the latest marketing trends when creating your strategy. It's important to know your customers when selecting a marketing strategy so you're actively targeting the right people in the right place. Learn about some of the best marketing strategies for 2020 to see which ones will work for your business.
What Is a Marketing Strategy?
A marketing strategy is a company's advertising and customer outreach plan. Most marketing strategies include traditional and digital elements that all work cohesively to attract and educate customers in the hopes that they'll make a purchase.
Image via Unsplash by kaleidico
The 17 Best Marketing Strategies for 2020
There are myriad marketing strategies out there to consider. Before choosing the right combination for your company, create customer personas and run an analysis to see which strategies will be most effective for reaching your target market. Try a few of these top strategies to engage with your customer base in a new way.
Create Content
Content marketing is here to stay. Educational blog posts serve a dual purpose — they provide useful information and knowledge to potential customers and boost SEO for businesses. The more people read your content, the more likely they are to consider you a reliable and trustworthy source, the higher your SERP ranking will be, and the more sales you'll make.
Include Personalization
Personalize more than just the name you put in customer email salutations. Use data and analysis to personally target specific customers with ads, pop-ups, and email marketing that relates directly to their interests. The more targeted the marketing collateral, the more likely the person is to respond to it.
Use Data
Digital marketing gives companies an absolute gold mine full of user data. Use this information to inform all your marketing choices, from the design elements you choose to the time you release a new marketing tactic to the platform you present it on.
Perform Research
Do your own testing and research that you can publish. This strategy positions you in the marketplace as a trustworthy authority. You can link to your own research, and as the data makes its way through the industry, it's likely other companies will link to it as well, further expanding your brand awareness and reputation with consumers.
Update Content
Remember to update old content periodically to reflect any new information on the topic. Changing the release date on updated articles can help boost their SEO and drive traffic to the content.
Be an Expert
Leverage your expertise with journalists and news sources. Platforms like Help a Reporter Out, or HARO, pairs journalists in need of a quote or comment from an industry expert with leaders in the field interested in building their brand awareness and reputation.
Include Guests
Invite industry experts to guest blog on your website. This cross-promotion helps you both out by bringing the guest blogger's followers to your page and giving your loyal customers a new perspective to learn about.
Make Videos
People love videos. Creating your own original videos can help capture the attention of potential customers and boost your SEO rankings. Experiment with different types of videos, like tutorials, reviews, and how-tos to see which resonate best with your target market.
Stream Live
Livestreaming and posting to stories is a great way to engage with customers in an informal way on social media. Since these videos require much less production time and energy, they're easy to create and lend your brand a feeling of authenticity, which is an important business characteristic for many consumers.
Make Podcasts
Podcasts are a popular platform for people who want to learn more about specific topics and interests. Harness this demographic by appearing as a guest on podcasts related to your industry, or if you have enough content, starting your own.
Optimize Local
If you have a brick-and-mortar location or serve a local population, you should invest in your local SEO. Make a Google My Business page so when people search for businesses or products near them, your company will show up as a local option.
Automate
Consider automating your email marketing to free up time for your marketing team and increase the amount of material you can send out.
Experiment With Voice
More and more consumers are using voice search on their phones, smartwatches, and smart speakers to look for information and products. Optimizing your content for voice recognition and sharing while it's still a relatively novel platform can put you ahead of your competitors as this trend continues to grow.
Introduce Augmented Reality
If you sell a product like furniture or hair dye, consider adding an augmented reality feature to your website, allowing potential customers to "try" your product before purchasing. Customers can upload a picture of their home and test different pieces of furniture digitally or do the same with a picture of their face and different shades of hair color.
Use Smart Bidding
Big names like Facebook and Google have introduced automated smart bidding systems, which analyze your past pay-per-click efforts and provide you with stats and suggestions to help you maximize your bidding budget and see better payoffs with click-through rates and purchases.
Test Copy
Perform testing on your marketing copy for emails and blogs to see what performs best. With a broad base of users, you can give some users one message and others a second message and see which performs better before sending out a full-scale email campaign or posting a new blog article.
Use Direct Messaging
Direct messaging is common on most social media platforms. Customers can reach out to you through whatever site they're on with questions or comments. Consider expanding this reach by including a chatbot on your website so customers can come straight to you with a question rather than finding an email address or phone number and then composing a message.
Trying out a few new strategies in marketing can have a major impact on your conversion rates and brand reputation. See which of these top marketing strategies fits best with your overall marketing campaign and give them a try.