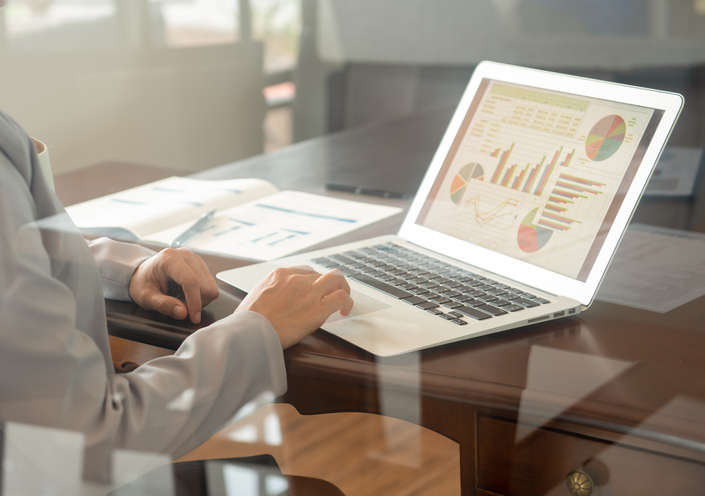 Quick Navigation
---
Search engine optimization is a crucial component of a company's online marketing strategy. Without effective SEO optimization, it's a lot more difficult to rank highly on search engine result pages (SERPs) and experience increased organic traffic, leads, and conversions. Search engine optimization software is designed to increase website rankings without having to pay for ads or search engine results page placement. Here we explore what SEO software is and a few of the best SEO software tools to consider to support your digital marketing efforts.
What Is SEO Software?
Search engine optimization (SEO) software is a type of software that supports the increase of organic traffic to a website via higher rankings on search engines like Google. This software gives companies a way to track the effectiveness of their SEO marketing efforts and identify the best strategies to make a website more relevant to its target audience. SEO tools provide organizations with important resources like competitor data, SEO insights, keyword research, link building, rank tracking, content optimization, measurements of SEO optimization effectiveness, and industry analysis.
SEO software is most commonly utilized by marketers, product teams, and SEO specialists to determine areas of improvement they should focus on for an organization's SEO efforts.
Image via Unsplash by hostreviews
SEO Software Tools to Support Your Digital Marketing Efforts
The following are several different types of SEO software you can use to improve your SEO strategy:
SEMRush
SEMRush is an SEO tool that helps companies optimize their online presence throughout all primary channels by managing online visibility. This tool is known as a content marketing software as a service (SaaS) platform. Features offered with this software include keyword research and keyword suggestions, long-tail keyword research, rank alerts and tracking, link building, backlink monitoring, and localization. SEMRush has more than 40 different tools and can seamlessly integrate with task management platforms and Google.
Ahrefs
Ahrefs is a popular SEO keyword tool and is second to Google in terms of the largest website crawlers on the internet. Software features in Ahrefs include:
Site audits
SEO analysis
Competitor analysis
The ability to find the most frequently linked content in your industry or niche
Keyword research
Rank tracking
Viral content search
Website optimization
Google Search Engine Console
Good Search Engine Console is free for anyone who has a website and allows you to monitor and report your site's presence to Google to help increase SERPs rankings. After including the appropriate code on your webpages, you can submit your sitemap to be indexed with Google through Google Analytics. This software gives you a better understanding of how users see your website and provides you with the opportunity to optimize your site for better performance and visibility.
Conductor Searchlight
Conductor is the world's top organic marketing company. Its unique software, Conductor Searchlight, offers a content intelligence platform that gives you insight into user intent and browsing patterns. With this information, you can continue to create content that appeals to your ideal target audience. Key features of this software include:
Identifying trends and topics a company's ideal customer searches for
Customizable dashboards and workflows
Rank tracking
Rank alerts
Keyword research
Search volume
SEO reporting
Link building
Site audits
Backlink monitoring
Moz Pro
Moz Pro is another top SEO software that provides several tools to help you enhance your overall SEO optimization, organic traffic, and conversion rates. This software provides you with access to site tracking and the opportunity to understand your visitors better by looking at the keywords most frequently used by your target audience.
Key features of this software include:
Keyword volume
Keyword lists and suggestions
Rank tracking
Crawlers that audit your website
Content auditing and improvement recommendations
Identification of link opportunities
Log file analysis
Change tracking
Data visualization
SpyFu
SpyFu is an SEO software service that offers competitive intelligence for pay-per-click (PPC) and search engine optimization. You can use this software to see various information on a domain, including key competitors, keywords it ranks for, and any purchased Google ads. Using this tool can help increase your website traffic, encourage better connections, and keep track of your keyword rankings.
Key features of SpyFu include:
PPC ad rank tracker
Adwords keyword grouping tool
Adwords competitor keyword spy tool
Adwords advisor
Competitor analysis and research
Backlinks
PPC and SEO SERP analysis
MarketMuse
MarketMuse is an SEO tool that helps increase quality content creation and promote higher organic search rankings. This artificial intelligence-powered software includes a content intelligence and strategy platform, which analyzes millions of pieces of web content in minutes to show gaps where marketers can fill in their industry.
Features of MarketMuse include:
Content strategies
Content advisory
Content metrics
Content creation
Content research
Content metrics
Data visualization
SEO reporting
Keyword suggestions and research
BrightEdge
BrightEdge is software for SEO that focuses on enterprise content performance. This software is a world leader in its field and is a SaaS technology SEO platform that helps marketers increase traffic, conversion rates, and sales through organic search.
Features of BrightEdge include:
Opportunity forecasting
Key competitor mapping
Keyword target lists
Content recommendations
Website auditing and monitoring
Site reporting
Page reporting
Keyword reporting
Customer reports
Backlink monitoring
Majestic
Majestic is a link building and backlink checker software that provides users with link intelligence data to help them dominate their market on the web. This software comes with powerful artificial intelligence that helps companies build successful websites and apps.
Tools you get with a Majestic subscription include:
Site explorer
URL submitter
Keyword suggestions and research
Flow metric history
Domain comparison
Rank tracker
Custom reports
Bulk backlink checker
Utilizing SEO tools is a great way to increase your search engine optimization success and promote higher rankings on SERPs, which can lead to increased organic traffic and higher conversion rates.