Examples of Email Marketing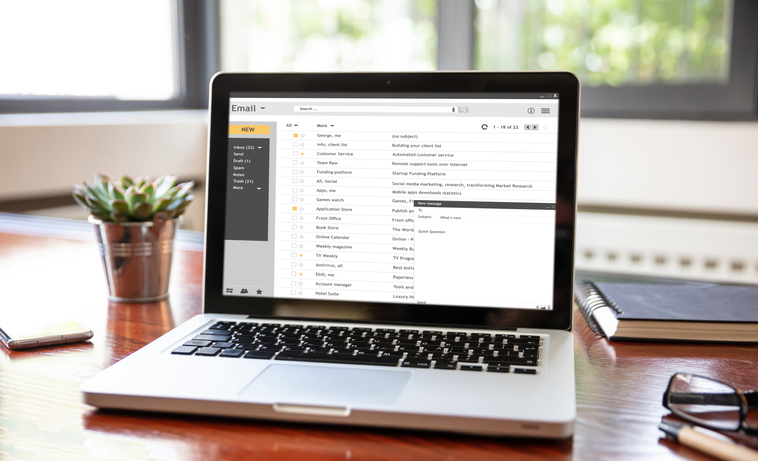 Quick Navigation
---
Email is one of the cornerstones of modern communication. So many people rely on email to carry out their day-to-day tasks that it has also become one of the most valuable marketing tools. If your business can find its way into the inbox of a potential customer, you have a great point of entry for informing them about your products and generating interest in your business. Like any type of marketing, email campaigns can vary in quality, so it's important to understand what types of email outreach are most effective.
Why Use Email Marketing?
Effective email marketing connects potential leads with engaging content, drives traffic to your website, and helps customers become invested in your brand through helpful communication. Email marketing engages with potential customers at every phase in the buying process, and you can easily customize email campaigns to target the needs of a particular contact. By sending out emails, you make sure that your customer base will have an easy way of finding your products whenever they are ready to buy.
Best Practices for Email Marketing
Email is an easily accessible, low-cost way to connect with customers. However, its accessibility also makes it highly competitive. People's inboxes are often flooded with marketing messages and spam from any company that can get its hands on their email information. To make your email marketing campaigns stand out and actually attract customers, implement these best practices:
Define a clear goal – Decide ahead of time what you hope to accomplish with your emails. Do you want to make direct sales, follow up about missed sales or learn more about your customers? Use these criteria to guide your content.
Obsess over subject lines – Getting your recipients to click on your email in a sea of others is half the battle of effective email marketing. Use short, engaging subject lines that immediately tell customers about the value of reading your email.
Use content as a sneak peek – Write engaging, interesting content that makes your target audience want to learn more about your company. Use the email as a teaser, then link back to your website for more information to increase their engagement.
Implement visual CTAs – Use clickable buttons and hyperlinked images as an interactive call to action. It's easier for email recipients to click on a button that says "tell me more" than it is for them to reply to the email or visit a site independently.
Develop targeted lists – Create specific criteria about who should be on your email lists, with several lists dedicated to different types of customers at various places in the purchasing journey.
Build a logical timeline – Decide on a reasonable frequency to send your emails and follow up with customers. You want to remind customers about your brand without annoying them with a high volume of repetitive emails.
Let customers opt out: Always include an easy way for customers to unsubscribe from your emails to ensure you are focusing on customers who are truly interested in your content.
8 Effective Examples of Using Email for Marketing
Here are some of the top email marketing campaigns that made a real impact on inboxes everywhere:
BuzzFeed
BuzzFeed is the king of email marketing newsletters. Buzzfeed's emails include teasers of fun content with engaging copy, well-picked images, and interesting subject lines. Alongside the newsletter content, it contains links to other relevant content that persuades customers to click through based on the entertainment value they received from the newsletter.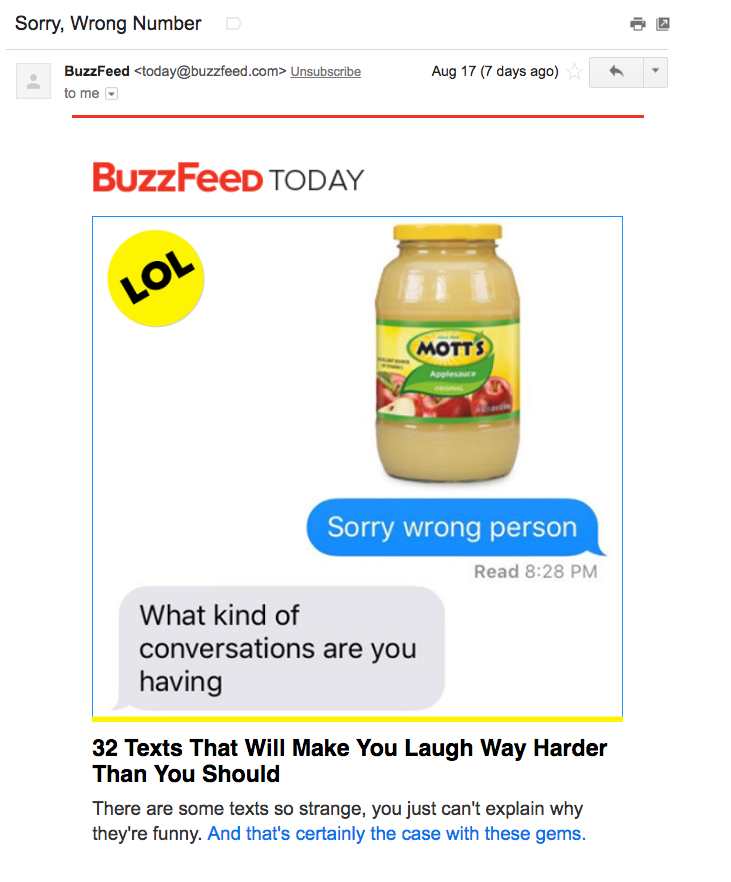 Dropbox
Dropbox is an example of a company that effectively used email to re-engage customers who hadn't used its website and services in a while. By targeting a specific set of customer emails with a brief, humorous reminder of its services, Dropbox found a fun and nonintrusive way to bring the brand back into the spotlight for previously disinterested customers.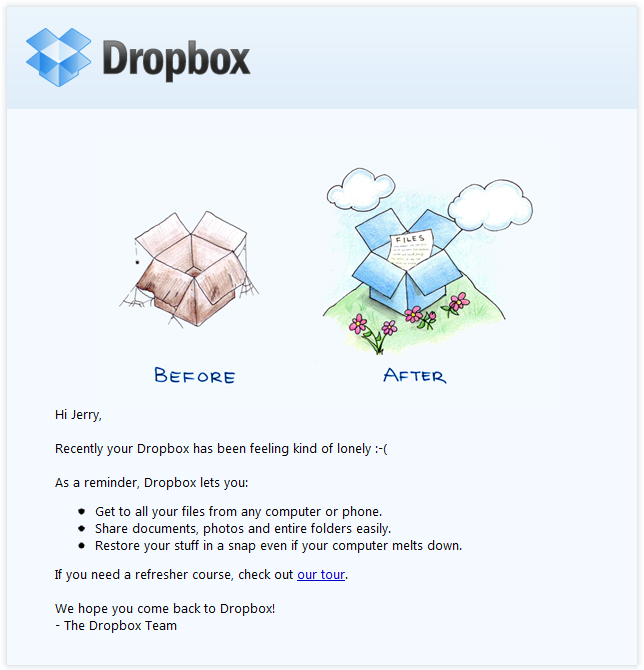 charity: water
The philanthropic company charity: water took a personalized approach to email marketing by sending updates to previous customers about the ongoing impact of their purchase. The organization sends emails describing how the money the customer spent helped enrich communities in need. The email campaign sends automated updates every few months, engaging customers by personalizing their involvement in the company and showing how future purchases could generate an even greater impact.

ModCloth
ModCloth uses its email lists to communicate with customers about how its brand makes changes over time. It updates about how the website works and product changes, keeping customers in the loop about the brand's development.

Zipcar
Zipcar sends out emails to customers who started filling out a sign-up form and then left the page for some reason. Reaching out to a specific email list of people who abandoned their carts and giving them reasons to go through with the purchase or sign-up is an excellent example of getting the most out of your consumer data and reminding them of the problems your company can solve.

Nike
Nike sends out emails with bright, attention-grabbing photographs and graphics. It uses centrally located CTA buttons that allow you to shop for a specific section of athletic wear depending on your demographic data. For example, a male customer would get an email with "shop men's" in the center, with other smaller links available at the bottom.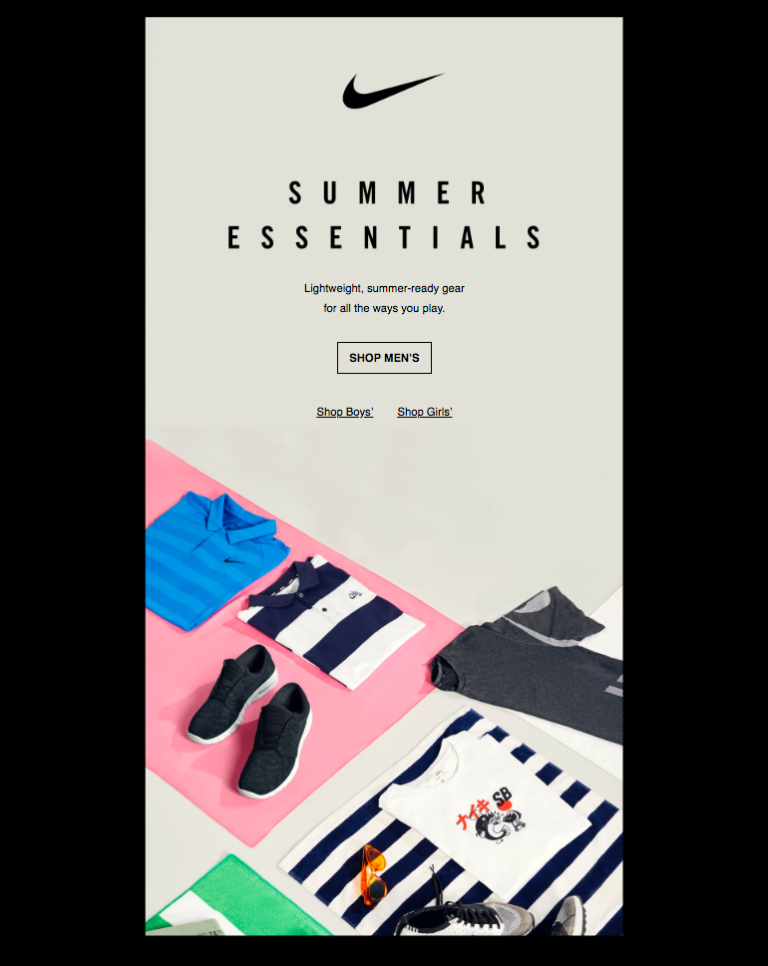 Threadless
Threadless creates a sense of urgency in its subject lines and email content by talking about limited-edition brand launches and "last chance" deals on their current products. This, combined with its colorful graphics, entices customers and delivers new content on a schedule.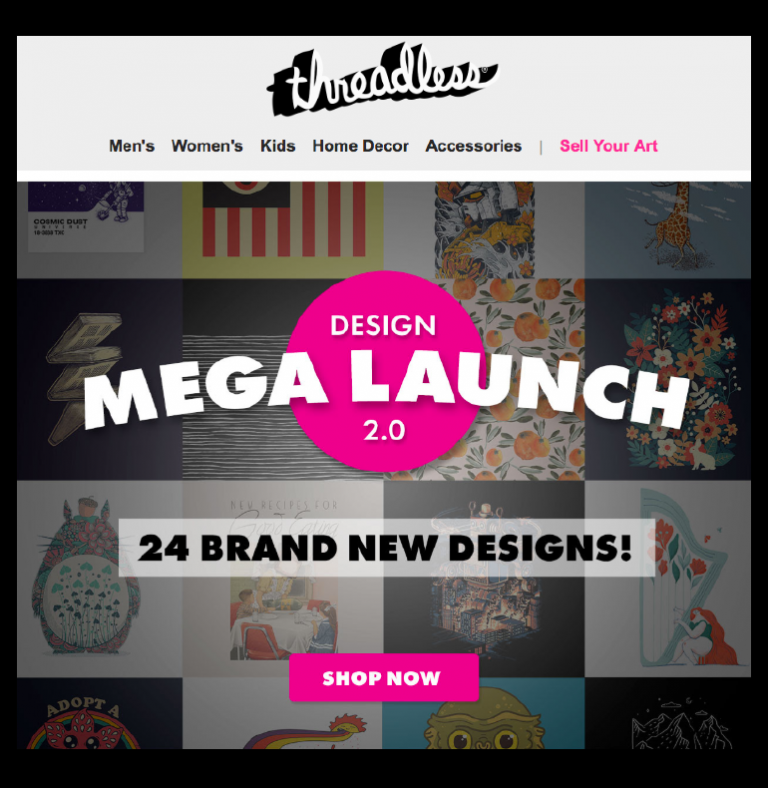 Nintendo
Nintendo regularly sends out emails with GIFs, images, backlinked videos, and other visual elements that draw you in to click on the website and engage with content outside of the email. The creativity of Nintendo's email design, including multiple ways for customers to interact, shows customers the value they can get from buying Nintendo products.

Try out some of these email marketing strategies to drive brand engagement and accomplish your marketing goals on a budget. Make small modifications to these successful concepts to tailor content to your customers and watch as your company grows.