Everything You Need To Know About Social Media Marketing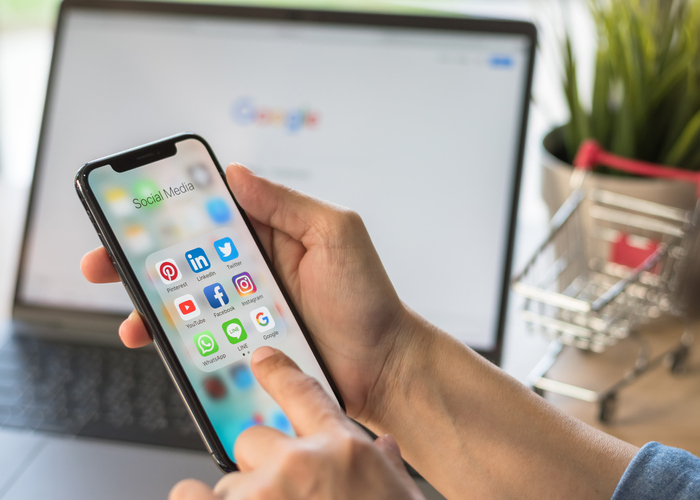 Quick Navigation
---
Social media marketing is a powerful way for all businesses to reach new customers. Whether you offer products, services, or a mixture of both, this marketing approach can help increase exposure around your brand and draw in customers you wouldn't be able to attract via more traditional marketing methods, such as print advertising.
There are many social media platforms that companies use to drive website traffic, increase sales, and build their brand. Learn more about what social media marketing is, why it's beneficial, and how you can start using these platforms to improve your business.
What Is Social Media Marketing?
Social media marketing is a marketing method in which companies rely on social media platforms to drive sales, increase website traffic, and promote their brands. This marketing tactic involves creating and sharing content via social media networks in an effort to reach branding and marketing goals. Businesses can use a variety of social media platforms to achieve these goals, with the most popular platforms being Facebook, Instagram, Snapchat, Twitter, and YouTube.

Image via Flickr by Sean MacEntee
Why Is Social Media Marketing Beneficial?
The most important reasons  why you should incorporate social media marketing into your marketing strategy include:
1. Social Media Is Where Most of Your Customers Hang Out
Social media marketing is so effective because the majority of a company's customers are already using these platforms in their everyday lives. With 3.8 billion social media users worldwide, social media is one of the best ways to quickly and effectively reach a massive audience base.
2. Customers Are Often More Receptive to Social Media Marketing Than Other Marketing Forms
Social media users spend an average  of three hours per day on social media platforms, and 90.4% of millennials, 48.2% of baby boomers, and 77.5% of Gen Xers all use social media. These statistics show that much of today's population not only use but trust social media, making it much more likely that users will be more receptive to marketing seen on social media than other marketing methods.
3. Different Social Media Platforms Enable You To Reach Targeted Audiences
While nearly everyone uses social media, not everyone uses the same social media platform. For example, Gen Xers and millennials are more likely to use Facebook, while millennials are the most prominent users on Twitter and Instagram. This means that you can use particular platforms to reach specific audiences based on your target customer.
4. Social Media Marketing Is Often More Cost-Effective Than Other Marketing Options
Social media marketing is often extremely cost-effective, but most platforms let you create a business account for free and only make you pay to run ads. And, what you pay to advertise on social media is typically a fraction of the cost of what you'd spend advertising elsewhere. For example, advertising via broadcast TV costs an average of $28 for every 1,000 impressions, while social media advertising averages around $2.50 per 1,000 impressions.
How To Use Social Media Marketing in Your Business
There are several steps you should take when creating a social media marketing strategy for your business. These steps include:
Identify your target audience. This first step in creating a social media marketing strategy ensures that you understand what your target customer is looking for so you can create content centered around this. You can use a buyer persona tool to help you accurately define the needs and interests of your target audience.
Decide which social media platforms are most appropriate for your goals. Once you know your target audience, you'll be able to narrow down the platforms to use based on what your audience likely uses. For example, if you're targeting an audience made mostly of Generation Z, Snapchat would be a good platform to incorporate into your strategy. Or, if you're aiming to attract loungewear-loving millennials, you'll want to focus your efforts on Instagram.
Create engaging and unique content. With so many social media users around the world, there's a good chance that your competitors are using social media as part of their marketing strategies, too. That's why you should spend a good portion of your social media marketing efforts creating unique and engaging content that sets you apart from your competition. Study the content your competitors are publishing and use this information to create content that's different and fresh.
Use the features of each platform to your advantage. Each social media platform has unique features you can use to optimize your marketing strategy. For example, both Instagram and Facebook have live-streaming features that let you run a live video on your feed. You can use this feature to share the latest details about a new product or to hold a giveaway with your followers. Research the features each platform offers and incorporate them to further your marketing goals.
Schedule your social media posts. Being consistent is a key component of successful social media marketing. So plan your content ahead of time — including graphics, copy, and videos — and publish it on a set schedule. There are several social media management tools you can use to compose your posts ahead of time to be published at a set date and time.
Monitor your results. Important metrics to track include engagement, followers, reach, impressions, views, profile visits, and mentions. Each platform provides this information to you when you create a business account. Regularly analyze your social media marketing results so you know how much progress you've made and can see what content is most engaging to your audience.
No matter what type of business you have, social media marketing will likely help increase sales and boost awareness of your brand. By using resources that can help you build an effective strategy and taking the time to develop a solid social media marketing plan, you can better set yourself — and your business — up for success.